Course details
[Birthday / Anniversary ★] Celebration surprise ♪ All-you-can-drink course 3500 yen (all 8 items) * 4000 yen before Fridays and Saturdays holiday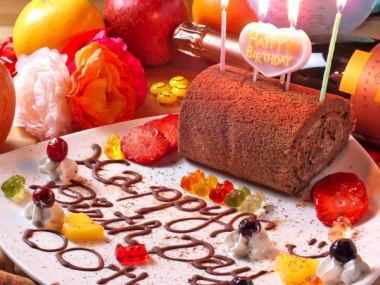 3500 yen
* 4000 yen on the day before Fridays and Saturdays
All-you-can-drink available

All-you-can-drink including draft beer & sparkling wine!
Reservation deadline

Until 23 o'clock the day before the store visit date
Available days for reservation

Monday - Sunday - Public holidays - Holidays
※The photograph is an image.A precious course with a message plate for an important friend ... that person you love.Mix Ahijo comes with a bucket of freedom! ☆ You can put your favorite message ♪ "Congratulations!", "Thank you!", "Thank you!", "Let's go!" Please feel free to contact us!
Course menu
◆ Seasonal seasonal vegetable salad
◆ Bruschetta with raw ham
◆ 5 kinds of appetizer platter
◆ Mix Ajillo (* Bucket free refill)
◆ Garlic Shrimp
◆ Roast beef ~ truffle sauce hook ~
◆ Today's pasta
◆ Celebration dessert plate
☆ Birthday, marriage, childbirth, discharge, entrance, graduation, transfer, anniversary etc ...
We will be happy to help you with any message content or plans.
* Cooking can be changed if there are allergies or weak ingredients.
Please feel free to contact us.
All-you-can-drink menu
·【beer】
・ Kirin Ichiban Shibori Beer / Kirin Zeroichi (non-alcoholic beer-taste drink)
·【sour】
・ Plain / Lemon / Lime / Ume / Calpis / Grapefruit / Tomato High / Oolong High / Gyokuro High / Jasmine High
・ [Shochu / Sake]
・ <芋> Kurokirishima ・ Fawn / <Barley> Hakusui ・ Nikaido / <Rice> Hakusui ・ Shiro / [Fukuoka] Gin no Hitomi Daiginjo
・ 【Fruit liquor / Makgeolli】
・ Pure sake, apricot liquor (anzu) / JINRO makgeolli, mango makgeolli, cranberry makgeolli, kiwi makgeolli
·【wine】
· Red wine / white wine / sparkling wine
・ [Highball / Whisky]
・ Highball ・ Cola highball ・ Ginger highball / White horse
·【lemonade】
・ Smino Flamonade / Passionate Lemonade / Samurai Blue / Lime Lemonade / Pink Lemonade / Orange Lemonade
· 【Cocktail 1】
・ <Tequila> Teconic ・ Tequila Sunset・ Gin Lime ・ Gin Rickey
· 【Cocktail 2】
・ <Beer> Red Eyes / Shandigafu / Camparibia / Panache / Dog Nose / <Sake> Saketini / Samurai Rock / Nadesico / Clear Stream / <Wine> Sangria (Red / White)・ Operator / Mulled wine
· 【Cocktail 3】
・ <Cassis> Cassis Soda, Cassis Orange, Cassis Grape, Cassis Oolong / <Campari> Campari Soda, Campari Orange, Campari Grape, Spmoni / <Peach> Fuzzy Navel, Reggae Punch, Peach Fizz / <Litchi> Dita Orange, Dita Grape, China Blue Ditamoni
・ 【Non-alcoholic drinks / cocktails】
・ Non-alcoholic coffee high ・ Non-alcoholic plum wine / Shirley temple ・ Saratoga cooler ・ Apple phrase ・ Virgin breeze ・ Summer delight
·【Soft drink】
・ Orange Juice / Grapefruit Juice / Apple Juice / Ginger Ale / Tonic Water / Cola / Green Tea / Jasmine Tea / Oolong Tea / Tomato Juice / Calpis / Milk / Coffee / Tea
2019/10/15 update