Course details
Toro-ri Cheese Dak-galbi Hot Pot ♪ All-you-can-drink 120 minutes course 3500 yen (8 items in total)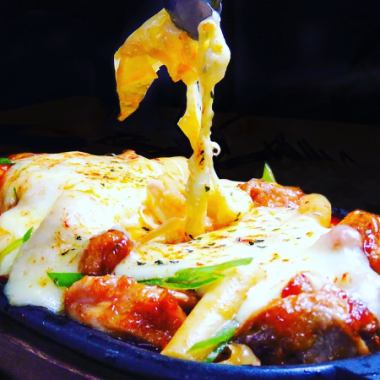 By using a coupon3500 yen(Tax included)
* 4000 yen on the day before Fridays, Saturdays, and holidays * 4,000 yen from December 29th to January 5th
All-you-can-drink available

All-you-can-drink including draft beer and sparkling wine!
Reservation deadline

Until 21 o'clock on the desired shopping day
Available days for reservation

Monday - Sunday - Public holidays - Holidays
The main dish is AJO's special cheese dak-galbi pot! The dishes are prepared in Korean style ♪ Enjoy Japchae, Chijimi, and Pokkunpa.Recommended for girls-only gatherings, birthday parties, and charter parties ◎
Course menu
◆ South Korean style chopped salad
◆ Korean style cold tofu
◆ Japchae with plenty of vegetables
◆ Samgyeopsal
◆ Chive egg chijimi
◆ Special Cheese Dak-galbi Hot Pot
* Since it is not spicy, you can adjust the spiciness individually.
◆ Pokkunpa Korean style fried rice
◆ Today's Dolce
All-you-can-drink menu
·【beer】
・ Kirin Ichiban Shibori Draft Beer / Kirin Zeroichi (Non-alcoholic beer taste beverage)
·【sour】
· Plain / lemon / lime / calpis
・[Shochu/Japanese sake]
・ <Imo> Kurokirishima <Wheat> Nikaido <Rice> Shiro / [Fukuoka] Chikugo Kanume (cold / hot)
・ [Fruit wine / Makgeolli]
・ Makgeolli / JINRO Makgeolli ・ Mango Makgeolli ・ Strawberry Makgeolli ・ Kiwi Makgeolli
·【wine】
· Red wine / white wine / sparkling wine
・ [Highball / Whiskey]
· High Ball · Cola High Ball · Ginger High Ball
·【lemonade】
・ Smirnoff Lemonade / Samurai Blue / Lime Lemonade / Pink Lemonade
· 【Cocktail 1】
・ <Tequila> <Rum> Ramtonic Mojito Cuba River <Vodka> Vodka Tonic Bulldog Salty Dog Moscomule Screwdriver Bloody Mary <Jin> Gin Tonic Ginback Gin Lime Rickey
· 【Cocktail 2】
・ <Beer> Red Eye Shandy Gaff <Wine> Sangria (Red / White) ・ Bellini ・ Mimosa ・ Spritzer ・ Kitty ・ Operator ・ Kalimotxo ・ Mulled Wine
· 【Cocktail 3】
・ <Cassis> <Peach> <Litchi>
・ [Non-alcoholic drinks / cocktails]
・ Non-alcoholic plum wine ・ Non-alcoholic mojito / Shirley Temple ・ Saratoga cooler ・ Apple phrasel ・ Virgin breeze ・ Summer delight
·【Soft drink】
・ Orange juice / grapefruit juice / apple juice / cola / ginger ale / tonic water / oolong / tomato juice / Calpis
Coupons that can be used with this course
2021/06/18 update