Course details
150 minutes for both raw and sparkling [drinking] [Chef's selection course] 4500 yen ⇒ 4000 yen ※ Friday, Saturday, and public holiday 4500 yen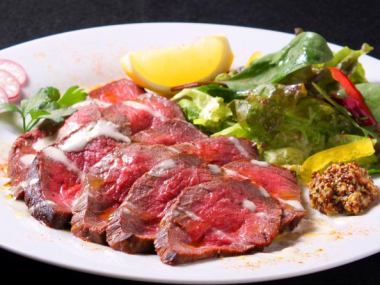 4000 yen
※ All you can drink for 180 minutes at + 500 yen! ※ Friday, Saturday, Sunday and public holiday is 4500 yen
All-you-can-drink available

All-you-can-drink drinks including draft beer & sparkling bottle, red and white bottle of wine!
Reservation deadline

Coming to the store until the desired date of the day 17
Available days for reservation

Monday - Sunday - Public holidays - Holidays
A chef 's carefully selected course that pleases the specialty cuisine.All-you-can-eat menu & plentiful drinks are available 150 minutes and it is 4000 yen (4500 yen before Friday, Saturday, and Public Holiday) The same day reservation is also possible.We highly recommend it to rich! Other courses will be accepted according to your budget (4500 yen 5000 yen 6000 yen 7000 yen inclusive drinks included)
Course menu
★ Today's salad
★ 5 types of international appetizer platter
★ Seafood cuisine made cold
★ Meat dish cold made
★ Main dish seafood
★ Meat dish meat
★ Today's luxurious pasta
★ Premium Dolce
☆ Fridays, Saturdays, and holidays 4500 yen
☆ + 500 yen and you can drink in 180 minutes!
All-you-can-drink menu
·【beer】
· Kirin's No. 1 squeezed draft beer / non-beer beer
·【wine】
- Red wine / white wine / sparkling wine
· 【High Bowl / Whiskey】
· High Ball / Cola High Ball / Ginger High Ball /
· 【Shochu / Japanese sake】
· [Potato] Black Kirishima / Oshika [wheat] white water / Nikaido [rice] white water / Shirayo / Gin's eyes Daiginjo (Fukuoka)
· 【Fruit wine / makgeolli】
· Plain plum wine / apricot wine (apricot) / JINRO makgeolli / mango makgeolli / cranberry makgeolli / kiwi makgeoli
·【lemonade】
· Smirnoff lemonade / passionate lemonade / samurai blue / lime lemonade / pink lemonade / orange lemonade
· 【Non alcohol drink】
· Non-alcohol beer taste beverage / Non alcohol shochu high / Non alcoholic plum wine / Shirley temple / Saratoga cooler / Apple phrase / Virgin breeze / Summer delight
· [Cocktail 1]
· Vodka Tonic / Bulldog / Soltodock / Moscone / Screwdriver / Bloody Mary / Teconic / Tequila Sunset / Tequila Sunrise / Dita Orange / Detagorep / China Blue / Ditamoni / Campari Soda / Campari Orange / Campari Grape / Spumoni
· [Cocktail 2]
· Cassis soda / cassis orange / cassis grape / cassis oolong / ram tonic / mohito / cuba river / fuzzy group / reggae punch / peach fizz / gin tonic / gym bag / jin lime / gin ricky /
· 【Via cocktail / wine cocktail / salmon base】
· Red Eye / Shandigaf / Campalribia / Panache / Dog Nose / Sangria (Red · White) / Bellini / Mimosa / Splitzer / Keel / Kiel Royale / Kitty / Operator / Hot Wine / Saketini / Samurai Rock / Nadesico / Clearstream
·【Soft drink】
· Oolong tea / green tea / orange juice / grapefruit / apple juice / cola / gingeraele / tonic water / tomato juice / calpis / apple juice / milk / coffee / tea / jasmine tea
2018/09/18 update