Course details
150 minutes for both raw and sparkling [drinking free] [chef carefully selected course] 4500 yen ⇒ 4000 yen * 4500 yen before Friday, Saturday and public holidays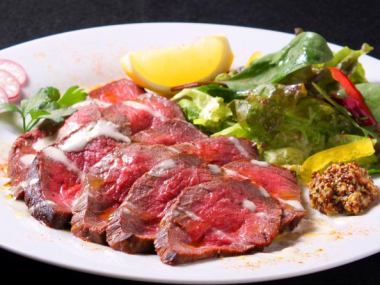 4000 yen
* The day before Fridays, Saturdays, and holidays is 4500 yen ☆ All-you-can-drink for 180 minutes at +500 yen!
All-you-can-drink available

All-you-can-drink including draft beer & sparkling bottle, red white bottle wine!
Reservation deadline

Until 17 o'clock on the desired shopping day
Available days for reservation

Monday - Sunday - Public holidays - Holidays
A chef's carefully selected course where you can enjoy special dishes.4000 yen with a 150-minute all-you-can-drink menu and plenty of all-you-can-drink options!It is highly recommended for a great deal! Other courses are available according to your budget!
Course menu
★ Today's salad
★ Assorted appetizers from around the world
★ Seafood cold
★ Meat dishes cold
★ Main dish Seafood
★ Main dish Meat
★ Today's luxury pasta
★ Premium Dolce
☆ Friday, Saturday, the day before holidays 4500 yen
* Please see the course details for various options.
All-you-can-drink menu
·【beer】
・ Kirin Ichiban Shibori draft beer / non-al beer
·【wine】
· Red wine / white wine / sparkling wine
・ [Highball / Whisky]
・ Highball / Cola Highball / Ginger Highball /
・ [Shochu / Sake]
・ [芋] Kurokirishima / Oga [Wheat] Hakusui / Nikaido [Rice] Hakusui / Shiro / Gin no Hitomi Daiginjo (Fukuoka)
・ 【Fruit liquor / Makgeolli】
・ Pure sake, apricot liquor (anzu), JINRO makgeolli, mango makgeolli, cranberry makgeolli, kiwi makgeolli
·【lemonade】
・ Smino Flamonade / Passionate Lemonade / Samurai Blue / Lime Lemonade / Pink Lemonade / Orange Lemonade
· 【Non alcohol drink】
・ Non-alcoholic beer-taste beverages / Non-alcoholic coffee high / Non-alcoholic plum wine / Shirley Temple / Saratoga cooler / Apple Phrase / Virgin Breeze / Summer Delight
· 【Cocktail 1】
・ Vodka Tonic / Bulldock / Salt Dock / Moscow Mule / Screw Driver / Bloddy Mary / Teconic / Tequila Sunset / Tequila Sunrise / Dita Orange / Dita Grape / Chine Blue / Dita Moni / Campari Soda / Campari Orange / Campari Grape / Spumoni
· 【Cocktail 2】
・ Cassis Soda / Cassis Orange / Cassis Grape / Cassis Oolong / Lum Tonic / Mojito / Cuban River / Fuzzy Navel / Reggae Punch / Peach Fizz / Gin Tonic / Gin Buck / Gin Lime / Gin Ricky /
・ [Beer cocktail / wine cocktail / salmon base]
・ Red Eye / Shandigafu / Camparibia / Panache / Dog Nose / Sangria (Red / White) / Berini / Mimosa / Splitzer / Kiel / Kiel Royale / Kitty / Operator / Hot Wine / Saketini / Samurai Rock / Nadesico / Clear Stream
·【Soft drink】
・ Oolong Tea / Green Tea / Orange Juice / Grapefruit / Apple Juice / Cola / Ginger Ale / Tonic Water / Tomato Juice / Calpis / Apple Juice / Milk / Coffee / Tea / Jasmine Tea
2019/10/15 update